First Steps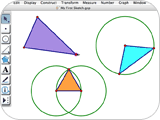 Read about different ways you can learn how to use Sketchpad, including self-paced tutorials, experimenting with the software, and taking online courses.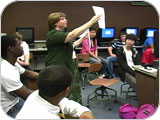 Listen to teachers at all levels describe how they introduce Sketchpad to their students, and the activities they start with on the first day.
Common Concerns
Do I need to have a computer lab to use Sketchpad with my students?
Read about adapting Sketchpad to the technology you have available.
Can I use Sketchpad to make tests and worksheets, or to publish my work?
Read about using Sketchpad as a productivity tool.
Will Sketchpad work on my interactive whiteboard?
Read tips for using Sketchpad with interactive whiteboards.
Is there any research about the effect Sketchpad has on student learning?
Read about the educational research that supports using Sketchpad.
Can I create my own Sketchpad activities?
Read suggestions to keep in mind when authoring your own Sketchpad activities.